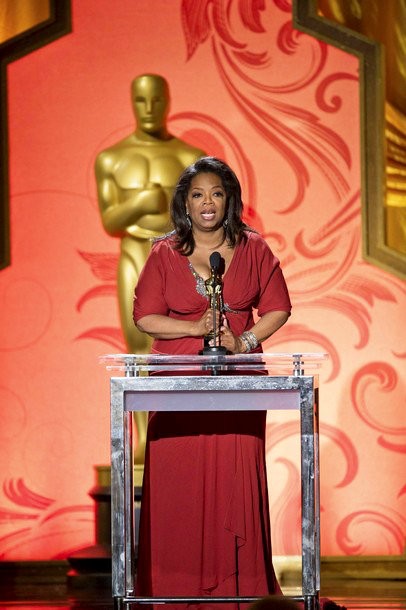 Oprah Winfrey couldn't stop her tears from rolling down as she received her Oscar at the third annual Governors Awards. The talk show mogul was presented with the coveted award of Jean Hersholt Humanitarian from the Academy of Motion Picture Arts and Sciences during the event at the Hollywood & Highland Center, Los Angeles on Saturday night, November 12.
Upon accepting the golden statuette, Oprah said, "I never imagined receiving an Oscar, especially for doing what is part of my calling, part of my being." She added, "If you are not a former colored girl born in Mississippi in 1954, it is impossible for you to know what this journey has meant."
"It's unimaginable that I would be standing before you, voted by the board of governors," the former host of "The Oprah Winfrey Show" continued. "So when I say thank you, the thank you comes from a place deeper even than I know, because it's not just from me, it's from everybody who made me possible."
Read More at Ace Show Biz
First off, how is it that Oprah crying is news? But more importantly, how in the hell is Oprah being honored for that fiasco she runs in Africa? Look at these legitimate stories.
Dead Baby in a bag
Oprah Winfrey's school for girls in South Africa is being rocked by a fresh scandal as police investigate the body of a newborn found in one of the student's bags, police said today.
ABC News
Sexual abuse by students
According to the Afrikaans on Sunday newspaper, one 15-year-old "preyed" on a schoolmate and coerced others into lying to officials investigating the alleged incidents. Six other pupils have been excluded from the $46 million (£32 million) girls-only boarding school after being alleged to have touched each other intimately, or "intimidating others into partaking of inappropriate behaviours".
Telegraph
Physical and sexual abuse of students
According to the Afrikaans-language newspaper Rapport, the "dorm matron" allegedly grabbed a student by the throat and threw her against a wall. The unidentified woman is also alleged to have screamed at and assaulted her wards, as well as fondled at least one girl. The staffer has been put on probation pending an investigation.[20]
On November 1, 2007, Police Superintendent Lunge Dlamini announced that the 27 year old dorm matron had been arrested after seven students submitted statements alleging assault and various abuse at the hands of the employee.[21]
Dlamini stated;
Several charges including alleged assault, indecent assault, criminal injury and soliciting underage girls to perform indecent acts are being investigated against her
Wiki
So she gets this award on the very weekend that Paterno gets fired and has his recommendation for a medal of freedom taken away? What a fucking hypocritical world we live in. Unbelievable. This is how out of touch Hollywood is, and there should be public outrage over this award. There won't be, but their should.